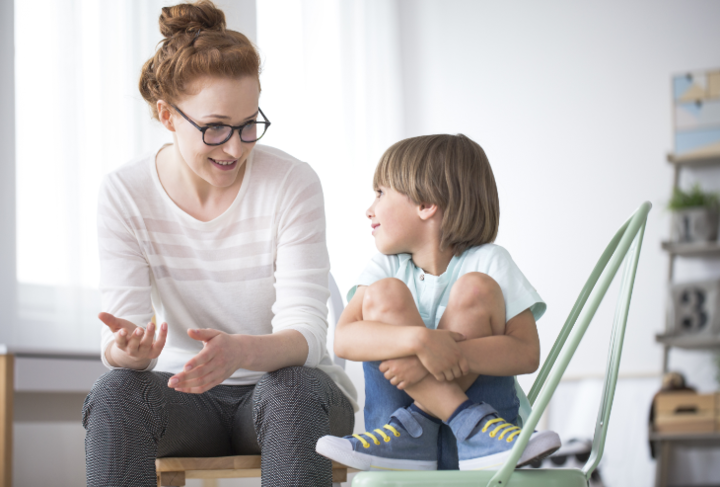 Your mom – our Ambassador of Safety
Parents always care about your safety. When you hear: "Always look before you cross the tracks", "Watch out for the trains" or "Remember not to listen to music when you cross the tracks, and don't stare at your phone then!" – remember these words. Mom is not only the best person in the entire world who hugs you when a problem occurs, cooks the most delicious dishes and helps with your homework. She is first and foremost the best teacher of life, taking care of your safety. Always listen to her, but remember that you can also teach your parents, grandparents and siblings about the road signs and the railroad crossing safety rules! How to do it? Get to know our materials. Check your knowledge, invite an Ambassador of Safety to learn with you – your mom, sister, grandma or aunt and become a superhero of the "Safe railroad level crossing..." campaign.
Meet Susie, Kajtek, their dad Thomas and their mother – Anne, whom the whole family calls the Ambassador of Safety. Why? During their adventures when all of them – including Azor, their dog – are travelling across Poland, Anne takes care of everyone, so that no one gets hurt. She knows the rules and the railroad crossings regulations perfectly. The Ambassador of Safety makes sure that her loved ones never cross the railway track using a shortcut, she teaches Susie and Kajtek the road signs, and even Thomas can learn from her a lot sometimes – though he is an adult. Download the "Safe railroad level crossing..." educational notebook and alongside the Ambassador of Safety and her family play Indians, guess what a turnpike is, meet a friendly railwayman and use the "Yellow Sticker". Embark on an amazing adventure with us and become a specialist of correct behavior on the tracks and in the railway area. Thanks to interesting exercises you too can become the Ambassador of Safety – just like Anne!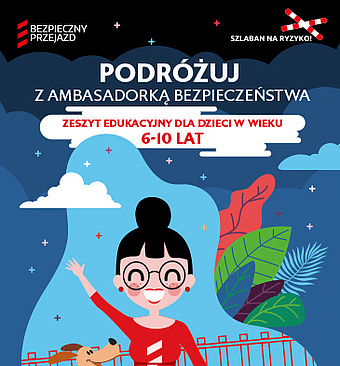 The idea of our campaign is to encourage every mom, grandma, daughter and sister to become their family's Ambassador of Safety and to spread the correct behaviors of crossing the railway tracks among their loved ones. We encourage you to read with your children and have fun!
You can learn more about the Ambassador of Safety's family adventures from our coloring book. While travelling through our country, they all learn about the railway-related issues. By coloring their black-and-white world you will give them a lot of joy and improve your knowledge about the safety on the tracks while doing so! Prepare your crayons and markers, remember what you already know about the safety and go on "Railway Adventures with the Ambassador of Safety"!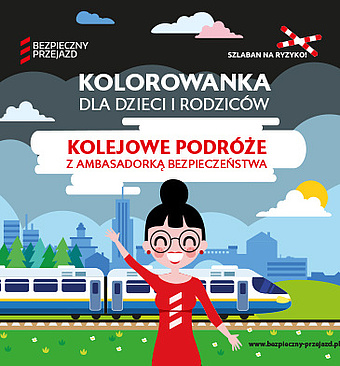 Download this coloring book, And look at its every nook. You can see Susie, Kajtek and Ann, As they are having so much fun! Next to them are trains and tracks, But they're all in white and black! Give them colors, make them bright, Even those big, traffic lights! As you color you will learn, All the railway safety terms!
We have also an amazing surprise for all the fans of the virtual reality games! Especially for you, we have prepared a VR "Safe railroad level crossing..." app, which will allow you to move directly to the area of railroad crossings and passages without even getting up from your couch! You will be able to check your knowledge, take a closer look at real situations that happen every day on the tracks. Download VR app to your phone, put on the special goggles* and throw yourself into the adventure! Ten different levels will allow you to learn all about the different types of railroad crossings and passages and will also provide you with a lot of fun!
*The app can also be used without the special goggles – a regular smartphone is enough ☺
Following the basic traffic regulations is enough to minimalize the risk of a tragic incident on the railway tracks. Get to know the "The Safe Driver's Rules!"
Download one of our apps and learn through fun. Thanks to them You will transport to the virtual railroad crossing, expand Your knowledge and also report a defect on the railroad crossing!